Nineteen-year-old Spring was promised to Max when she was five years old. The wedding day has arrived, and, finally face-to-face, the two discover a glimmer of attraction. But Spring has a dark secret, and if Max doesn't learn to trust her as well as lust for her, that secret may just swallow them both whole…
Age Rating: 18+
Note: This story is the author's original version and does not have sound.
Spring's Seduction by Veronica is now available to read on the Galatea app! Read the first two chapters below, or download Galatea for the full experience.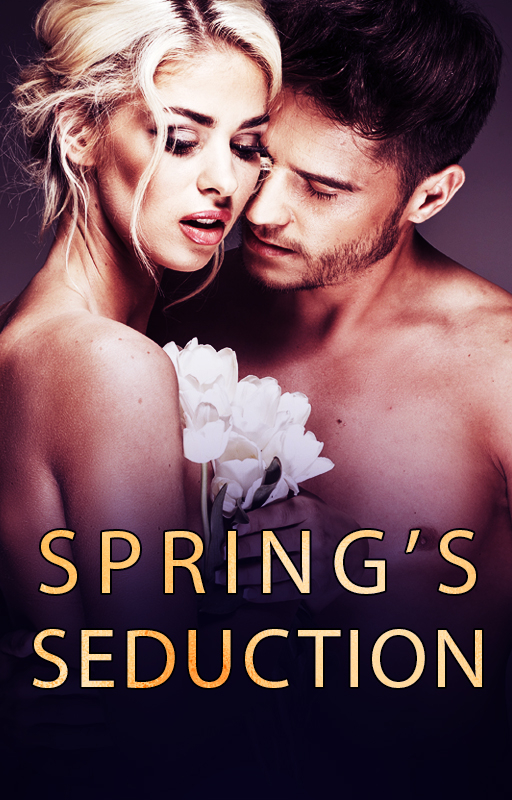 ---
The app has received recognition from BBC, Forbes and The Guardian for being the hottest app for explosive new Romance novels.
Read the full uncensored books on the Galatea iOS app!
1
Summary
Nineteen-year-old Spring was promised to Max when she was five years old. The wedding day has arrived, and, finally face-to-face, the two discover a glimmer of attraction. But Spring has a dark secret, and if Max doesn't learn to trust her as well as lust for her, that secret may just swallow them both whole…
Age Rating: 18+
Original Author: Veronica
Note: This story is the author's original version and does not have sound.
MAXIMILLIAN
"I can't believe I have been lured into this fucking medieval claptrap," Maximillian snarled.
"Well, if it is of any help, I have seen the girl," Chris, Max's best-friend, said.
Maximillian Arrington, a thirty-two-year-old billionaire, had everything that a girl desired in her husband: good looks, great personality, money, and a phenomenal cock.
But that wasn't the case here.
While checking all the boxes on the list, Max's name induced fear in everyone.
Girls wanted to be with him, but only for the night. They didn't want to be a part of the darkness.
"You have been betrothed for thirteen years! You don't know her name!"
"I made sure I knew nothing about her. I was nineteen when the deal came through. Instead of taking the payment for the loan, my father thought it would be great to forge a marital alliance."
"You will be taking over the entire Williams Enterprise, Max. That's what you wanted."
"I didn't want the girl!"
"You cannot get everything. There had to be a compromise. And just focus on the brighter side, would you? She is astoundingly beautiful. I am telling you."
"I have been with the most beautiful women on this planet, Chris. Beauty does not hold that much value for me, you know that."
"We'll see your reaction when you meet her."
"Do not expect me to be surprised. I will marry her and dump her at the manor. When the time is right, I will put a child into her."
"You do sound like a congested medieval lord. Do you hear yourself? What company would she have there?"
"Mrs. Arrington is with you most of the days. She is a board member and the vice president. She is also not on board with the marriage. Do you think she would be good to Williams's daughter?"
Mrs. Marcia Arrington was a formidable woman. She would not appreciate Williams's daughter.
But it was a done deal that even the Arringtons couldn't back out of.
"I don't care as long as she births a kid to further the line."
"You are making her sound like an object, a broodmare!"
"She is," Max spat. "Even her father thinks the same. Who exchanges their child for financial gain?"
Chris sighed and looked out of the car. Max Arrington was frigid about the deal.
He knew how coldhearted his friend could be. He just hoped that the girl could do something to melt his heart.
"Just…don't hurt her," Chris whispered.
A sardonic chuckle escaped Max's lips.
Chris couldn't trust his friend on this. Maximillian had the quality of twisting a person's emotions ruthlessly.
He knew a man's weakness and could bring them down on their knees if he set his mind to it.
Chris was genuinely concerned for the Williams' girl. She was young, naïve, and innocent.
Some would use the words gullible and exploitable as well.
Spring Williams, the most beautiful woman there ever was. Franco Williams was an overprotective bastard who saw the value in his daughter's beauty.
No journalist ever took a picture of her. It would tarnish the forbidden fruit aspect Spring came with.
Last week, Spring had accompanied her father for a meeting with Chris.
He must have stared too hard because next thing he knew, she was being escorted out by her bodyguards.
Franco glared so hard, Chris shifted in his seat.
They stopped in front of a beautiful Spanish-style villa. It was an architectural beauty.
Franco Williams was a collector of beautiful things.
Maximillian sighed. His dark mood was a contrast against the sunny weather.
He picked his cane made of sturdy oakwood with a bronze knob containing the sigil of the Arrington house.
It was an antique piece which now came in handy.
A motorbike accident had left Max's left leg weaker. Standing on it for too long was painful, and hence, he preferred carrying a cane.
It made him feel older than he was. The ladies loved it though.
They were let into the house and made to sit in the living area. The house was opulent to say the least.
Max came from old money, and he still hadn't seen a home with as much opulence as this.
Franco was definitely a collector of beautiful things; his house was a museum.
"Mr. Williams will be here soon," the butler said while placing a variety of hors d'oeuvres and beverages in front of them.
"Would you like to have some wine, sir? We just received the bottles from Bordeaux yesterday," the butler further asked.
"Don't ask, Davos. Just get the bottle! Crack it open!"
"Crack it open," Max whispered, judgement evident in his voice. "It is not a goddamn beer."
The Williams were nouveau riche.
The Arringtons were one of the richest family dynasties in the entire world. Money had been in their family since the past fifteen generations.
They were earls in Britain before moving to the States five generations ago.
Marriage in their family took into consideration prestige, pedigree, and position.
It still astounded Max that his father promised marriage to a man who simply had access to money.
"Mr. Williams." Max nodded.
"Please call me Franco. We are about to be family."
"I think it is best to get to work. The time has come. Spring is nineteen, and this was the age your father and I had agreed upon. We think next week sounds perfect. Your mother insisted on the wedding being private, which means the guest list won't be very long."
"It is perfect. I hope your daughter has transferred to Arrington University."
"She has. Spring will reside in Arrington Manor and attend Arrington University," Franco said and poured the wine which the butler brought.
"Does it not matter to you that she will be living an isolated life?" Chris asked.
"Spring is safest at the manor. Her safety is of importance. As for isolation, I am sure Maximillian will be more than happy to visit her time to time."
"Where is she? Your daughter…" Chris trailed off.
Just then Maximillian heard a mewl and felt something rubbing against his leg. He looked down and found a Persian cat with fluffy white fur.
He seemed sweet and adorable, not spoiled like cats are expected to be. Maximillian found himself caressing the cat. It purred.
"Mr. Buttons likes you," Franco commented. "He belongs to Spring. Why don't you return him to her? That way she could meet you."
Maximillian picked up the cat in one hand and held his cane in another.
It was best to check the girl out, avoid any surprise on the day of the wedding.
Franco had a broad face with small eyes and a large nose. His features were not good at all. The gods had not been merciful on him.
He expected the same out of this Spring, although Chris said she was beautiful.
He followed the directions he had been given to her room.
The corridor was long. He couldn't help but see that this wing of the house was different than the rest of the house.
While the rest of the house was opulent and grand, this wing was very feminine and delicate in its décor.
Pastel colors stood out, and Max knew he was in Spring's lair.
The windows in the corridor gave view to the beautiful flower patio with a staircase going up to her bedroom. Vines with little flowers wrapped around the balustrades.
Maximillian reached the room at the end of the corridor and set the cat down.
He firmly knocked on the door. To his surprise, the door wasn't locked, and without any further thought, he entered the room.
It was bright and airy. A beautiful canopy bed with sheer curtains sat in the middle of the room.
There was a pretty little love seat on one side of the room with a table in front of it.
Fashion magazines, catalogues, and a few novels decorated it.
There was a beautiful section in the room, separated by similar sheer curtains and foldable doors.
Max walked toward it and parted the curtains.
It was a wardrobe area with lines and lines of shelves full of clothing and a vanity table covered with beauty products.
Little Miss Spring was a princess.
An ugly taste found itself in his mouth. He was marrying a spoiled girl.
He hated heiresses and socialites; they were vain and their beauty fleeting.
Maximillian had gone through so many of them that he was familiar with Spring's blueprint.
There was a balcony which had a staircase leading down to the patio, which also had a swimming pool.
The beautiful doors of the balcony were open, and Max saw someone climb up those stairs.
Gentle air blew all across the room; it held the scents of beautiful flowers.
And then a girl emerged. She was tiny, very petite. Barely a few inches above five feet and more than a foot shorter than him.
He could pick her up in his arms, and she would weigh nothing. Her little body was very frail looking.
She had a small waist, and her hips flared deliciously.
His eyes travelled up, briefly stopping at her perfect breasts before moving to her heart-shaped face.
This was the face of an angel.
Big hazel eyes shaped like that of a cat and framed with long lashes, a beautiful button nose, and full lips with a pronounced cupid's bow.
Her long blond hair was flowing down her body.
She was clad in a lace bralette and tiny denim shorts.
It seduced the fuck out of him.
"Wh-Who are you?" she asked.
Max could see the fear in her eyes. It was justified. He was frightening.
"Maximillian Arrington," he introduced himself. "And you are?"
Her eyes widened, and she covered her body, an attempt to hide it from him.
Something punched him in his gut, and he stopped himself from staggering back.
This was Spring Williams, and Max couldn't take her eyes away from her
Chris was right. She was the most beautiful girl he had laid his eyes on.
A part of him was elated that she would be his in a few short days.
Max took a few calculated steps toward her, and she stepped back the same number.
"Do you know what I am to you?" he asked.
Max walked to the love seat and sat upon it. He beckoned her to him.
He observed. She was hesitant but eventually walked to him. Max let his eyes run down her pure feminine form.
Spring sat down beside him. He loved her shy obedience.
"You understand that we are to be married in a week," Max said.
Spring froze for a second but nodded eventually. Max deciphered her small action.
"Do you not want the marriage? Be truthful," he asked.
Spring didn't say anything. Her eyes were lowered.
Max understood then and there that she didn't want it either, just like him.
But strangely, he was now looking forward to that day.
"Your feelings don't matter." Max's voice was sharp, and she flinched. "This contract came into existence when I was your age. I have accepted it, and so should you."
And with that, Max got up.
"I will see you next week. Make sure you have a damn smile on your face that day."
And with that, he walked out. He was a jerk back there, but he could not let her feminine looks seduce him.
She would be his kryptonite; he knew that, but he would delay that moment for as long as he could.
The cat, Mr. Buttons, followed him back from her room. He looked very pissed. Obviously, Mr. Buttons didn't appreciate Max's attitude.
"You met her?" Chris asked.
"I can't wait for the next week."
Read the full uncensored books on the Galatea iOS app!
2
MAX
Maximillian stood at the altar, Chris right behind him as the best man. This day couldn't have come any slower.
For the past week, he had been looking forward to this day. He didn't want to, yet he was.
His eyes went to Marcia Arrington, his mother. A tall and strikingly beautiful woman but as cold as ice.
From her expression, Max knew she was definitely not on board with this.
"I hope your mother is keen on living under the same roof as Spring," Chris whispered.
It was earlier decided that Marcia Arrington would be taking the position as the chancellor of Arrington University.
But after a few meetings and discussions, it was agreed upon that Maximillian would be taking the post along with the presidency over Arrington Industries.
"I am taking the position as the chancellor," Maximillian said.
Chris was quiet for a moment before speaking.
"Really? That's nice. Spring wouldn't be alone in the house."
"I am not doing this for her. Arrington University needs a special focus. Education is important to us."
Chris was right, there was a part of him that was very happy with this decision.
Max liked that he would be closer to Spring. He shook his head and brushed the thought away. He needed to make sure that she was in line.
Slow music started, and Maximillian turned to the aisle.
There she was. Spring Williams. His tormentor.
She wore a beautiful lace and tissue gown with off the shoulder sleeves and a voluminous skirt.
Franco held her hand in his, and he swore that the man was stopping himself from crying.
They reached the altar and Max took Spring's hand from her father.
The minister started the ceremony, but Max didn't pay attention.
His eyes were on her lips; they were cherry red and so damn full. They called out to him.
He quickly spoke his vows in a confident tone while her small voice wavered.
"You may now kiss the bride."
Max gently lifted her veil and looked at her face. Her eyes were lowered, if not closed, and her bottom lip vibrated like she was about to break down.
He pressed his lips against her own pillow lips. They were so soft and full, kissing her was addictive. Could he ever stop?
He heard her muffled breath. That was his cue to move away.
He looked down at her. She was breathing heavily, her lips were redder than before, and her cheeks were blossoming with color.
"For someone who didn't want to get married, you sure took your time there."
Max rolled his eyes. The priest cleared his throat.
"I now declare you husband and wife."
Max gently pulled her closer to him as everyone clapped and hooted in the background. He brought a finger under her chin and pushed her face upward.
Her eyes met his. They were full of tears.
Before anything else could happen, Spring was whisked toward the reception.
"She is a doll, isn't she?" Marcia whispered to him as they walked toward the reception. "Good thing she didn't take after her father."
Max agreed with his mother.
"I will see you next week in the office, I guess," Marcia said.
"The honeymoon. Our private island is great this time of the year." And with that, Marcia walked away.
His mother was not interested in this relationship at all. She didn't want to be a mother-in-law to Franco's daughter.
"I don't want a honeymoon!" Max snarled and climbed down the altar.
"It's just a week. If she really bothers you that much, then keep to yourself. I am pretty sure she would be grateful for that," Chris said.
Max bristled. Chris had clearly insinuated that he would be way too much for Spring.
The reception droned for a few hours.
Max noticed that everyone, especially his colleagues, really wanted to dance with Spring.
His young bride was very polite as well, never refusing even if it meant waltzing in those tall heels of hers.
It was very late so he had to keep his cane down and be firm with everyone.
Max hated anyone else's paws on hers. But now he would have his on hers.
Max had been thinking of what their wedding night would entail. Should he be consummating it or not?
He would surely try, see where it went.
They walked out of their wedding venue. Spring was waving a distraught Franco goodbye. Her own eyes were full of tears as he helped her sit inside the Rolls-Royce.
The car drove, and Max turned to Spring.
She looked so small, wrapped in all of that tissue and lace, so fragile and frail. Completely at his mercy.
"Spring," Max grunted. "Look at me."
With great hesitance, her eyes met his. They looked swollen and were full of tears. She blinked her eyes and a few tears rolled down her cheeks.
Max narrowed his eyes at her, and a hiccup left her lips before small sobs escaped her chest.
Max pulled a crying Spring to him. She now sat on his lap, and Max felt like he was inside a cloud.
He cleared his throat and brought his hand to her face.
"Stop crying." Max tried to be gentle, but he was gruff at most.
It wasn't effective, but the girl registered his command and stopped crying. Spring now coyly looked at him with her wet lashes.
Max's eyes were, however, on her lips.
He brought his hand to the back of her neck and guided Spring to his lips. They were like ambrosia.
He groaned and deepened the kiss, pushing his tongue inside her soft mouth.
It was perfect for his cock.
But it was too early for that.
Spring pulled away, and he looked at her with a hungry gaze.
He wanted each and every garment off her frail body so that he could ravish her till the end of time.
He was whipped, and she didn't even know it.
"You know what's going to happen?" Max snarled.
"I am going to make this marriage real. I will fuck you so hard, Spring. You will not be getting up for the next week."
Spring trembled in his arms as he said that.
"I will make you mine. You will see that. There will never be anyone else in your life, except me. I am the only man you'll ever feel inside of you. Do you understand?"
Max didn't understand what had come over him, but he knew that this girl was to be his.
A very primal part of him was raging.
Max hated when she was in Chris's arms tonight, dancing and smiling. She had not smiled once at him. He wanted to see that bloody beautiful smile.
"Sir, we are at the airport." His driver interrupted his train of thought. The door to the Rolls opened, and they stepped out of the car. Max helped Spring out of the vehicle.
He placed a possessive hand on her shoulder and walked toward the private jet.
It was a spacious Airbus with a large private bedroom.
"Would you like to change?" Max asked.
She nodded. He showed her the room and walked toward the front.
"Sir, Mrs. Arrington left a few files. She is also on call, waiting for you."
Max nodded and took the phone from the stewardess.
SPRING
Spring stared down at the wedding dress.
It was the most beautiful dress she had laid her eyes on, but she didn't like it. It was tainted with a contract that commodified her.
Her marriage was nothing but a sham. She was nothing but a tool. An already rich man wanted to get richer.
Spring didn't know what to feel for a man like Mr. Arrington.
For as long as she could remember, there was only one thing she felt for him: fear.
Unobstructed and untreatable fear. It was almost irrational.
When she had seen him that day in her bedroom, she had felt that same fear paralyze her.
Today at the wedding venue, her eyes had been filled with tears.
It had been hard to even crack a smile, but she had done all of it just for her father.
Franco Williams was a man who had created everything in his life single-handedly, but a stroke of bad luck had that wealth crumbling, and he had to create a deal with the devil.
She walked to the bed and found the babydoll lingerie laid out for her.
Spring looked down at her naked body. Tonight it would be taken repeatedly by a man she feared.
She took the skimpy lace thong in her hand and wore it followed by the nightie. It was completely see-through, even her nipples were visible.
Her cheeks bloomed with embarrassment, and she climbed on the bed and sat at the edge.
The flight had taken off, and a pool of dread had formed itself in her stomach.
Maximillian Arrington was a devastatingly handsome man. It was the kind of beauty that was too dark and sinful to exist.
Maximillian had a reputation; he was known to be twisted and cold. Even the strongest of men and women cowered before him.
The door opened; Mr. Arrington entered. His words from the car echoed in her mind. She had her eyes lowered. The only thing she could see was his regal cane.
"Spring," his voice rumbled.
Spring sat rooted to her place. She began fidgeting with the hem of her dress.
Mr. Arrington took slow steps toward her.
She had now bunched the dress in her hands. She felt a finger under her chin, and slowly, her eyes were now on his face.
The moonlight showered onto his face, and it suddenly became difficult to breathe.
He was so hauntingly beautiful. That aristocratic nose, hooded eyes, and a sculpted face.
"What is that on your neck?"
"How did you get this bruise?" he asked. He sounded angry.
"You don't know what I am talking about," he stated and gently helped her down the bed and took her to the small vanity, his hand clasped around her wrist.
Spring's eyes zeroed on the bruise at the base of her neck. She gulped and looked away.
Mr. Arrington had gripped the back of her neck when he had kissed her in the car. She always bruised easily, slightest pressure on the skin and a mark would appear.
Spring just lowered her eyes again.
"I asked you something, Spring," Mr. Arrington said. There was a sharp edge to his voice now.
Her heart started to beat faster. The grip on her wrist got tighter, and a whimper left her lips.
"Shit," he hissed and immediately let go of her hand.
Spring examined her wrist, and soon enough red imprints of his fingers appeared on her wrist. They would quickly turn purple.
Mr. Arrington took her hand in his and observed it; realization seemed to dawn upon him.
She took her hand away from him and stepped away.
Spring dared to raise her eyes and stare into his. They looked hungry.
"I have not heard you speak once. Not a word," Mr. Arrington said. He started to unbutton his shirt, revealing his chiseled body, covered with tattoos.
Her eyes widened, and she turned her back to him.
"But I will definitely hear you moan tonight."
"Ever since I have seen you. You have been seducing me with each and every movement that you make. What are you doing to me, Spring?"
Spring didn't understand him.
Why was he attracted to her? Didn't he hate her?
She knew Mr. Arrington cherished his space. She had heard Chris Ford speaking to her father about it.
Maximillian Arrington was not on board with the marriage along with his mother, Marcia.
Chris had instead asked Spring to marry him. Spring was then asked to leave the room. She had never seen her father glare so hard. But if the choice arose, she would choose Chris.
He was charming and being around him always brought a smile to her face.
But she didn't have a choice.
Spring just shook her head. At this moment, she accepted her fate. Her fate of spending her entire life with a tyrant.
Mr. Maximillian Arrington.
She let him take her that night.
Read the full uncensored books on the Galatea iOS app!