After her father's death, Kate returns to New York to take over his NHL team. When she goes out for a night partying, Kate winds up kissing a handsome stranger.
Days later, she learns who the stranger is: someone completely off-limits if she's to keep everything she's worked so hard for. But you can't control fate, and she and the man can't seem to stay away from each other…
Age Rating: 18+
Note: this story is the author's original version and does not have sound.
Panther's Cage by Kali Gagnon is now available to read on the Galatea app! Read the first two chapters below, or download Galatea for the full experience.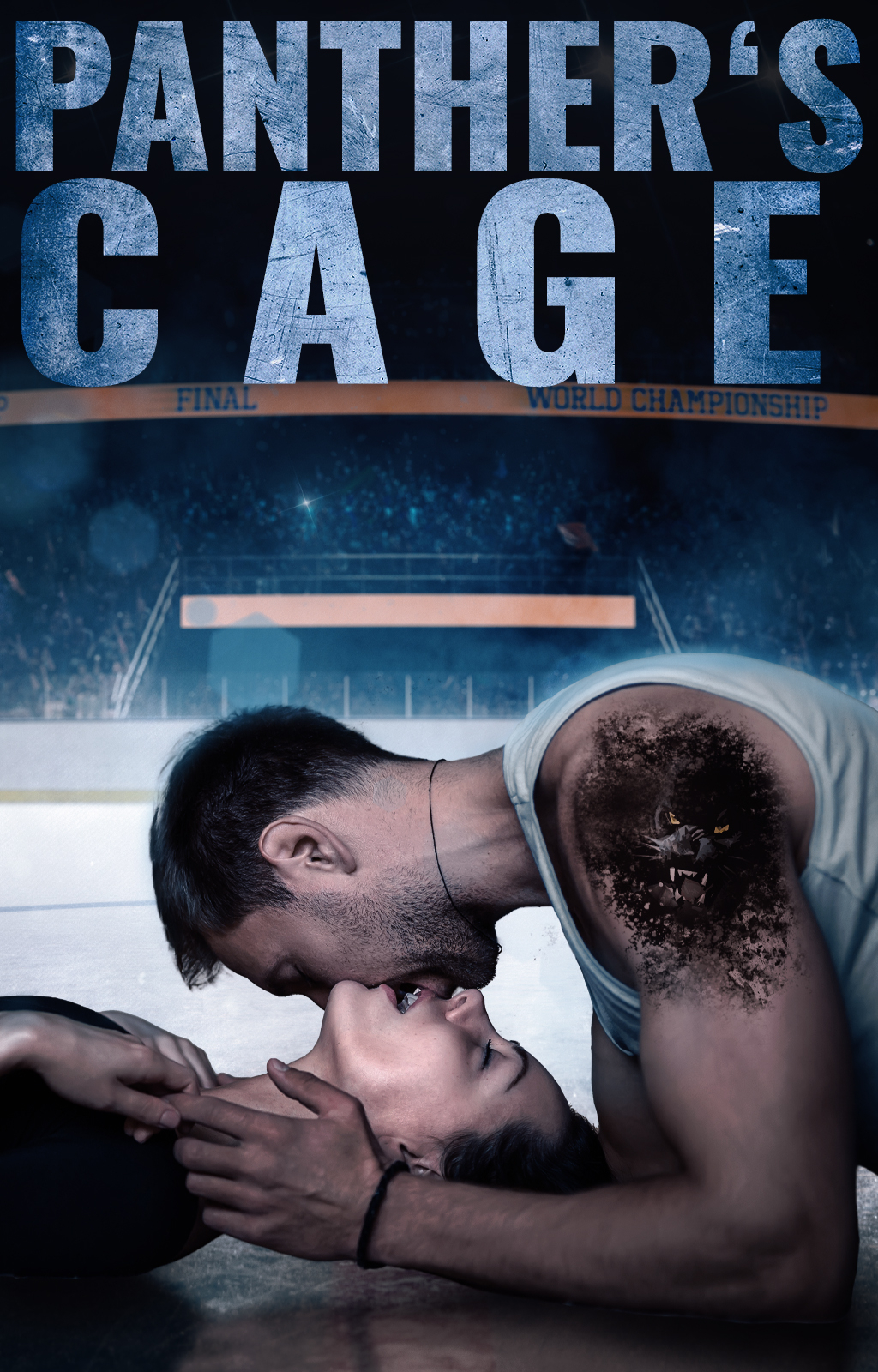 ---
The app has received recognition from BBC, Forbes and The Guardian for being the hottest app for explosive new Romance novels.
Read the full uncensored books on the Galatea iOS app!
1
Summary
After her father's death, Kate returns to New York to take over his NHL team. When she goes out for a night partying, Kate winds up kissing a handsome stranger.
Days later, she learns who the stranger is: someone completely off-limits if she's to keep everything she's worked so hard for. But you can't control fate, and she and the man can't seem to stay away from each other…
Age Rating: 18+
Original Author: Kali Gagnon
Note: this story is the author's original version and does not have sound.
"What's wrong?" I asked, finally biting my sister's bait.
Seven hours on the plane from Paris to New York, and she audibly sighed the entire flight. Now, weaving through the masses of people inside JFK, I awaited her response.
She picked an invisible spec of dirt off her white sweater, then looked at me like I was the devil herself. "I don't know why we had to be on a public plane since we have Dads jet."
I glanced around to the nearby people, praying no one heard her ridiculous cries. "You do realize we flew first class, right?"
Nicolette turned away from me, and whispered, "It's not the same, Kate."
I shook her complaints off and pushed forward.
The moment my uncle called to tell me our dad had passed suddenly from a heart attack; I did what I needed to do.
Running the foreign sector of my dad's company in Paris was no easy task, but I took care of business, then booked our flight.
I wasn't aware Nicolette would be so offended with my decision to not charter Martin Financials jet.
"Why did you give that little girl on the plane your number?" she asked, without turning to look at me.
"Her dad paid her zero attention," I said. "It reminded me of me and Mom, so I felt bad for her.
"They live right in the city, so I made myself available if she needed anything…" I stopped talking seeing her eyes glaze over with boredom.
On cue, Nicolette sighed again, but this time she glared as a group of young twenty-something guys looked us up and down.
"Ugh. You are so embarrassing."
I stopped moving abruptly. "How am I embarrassing?"
Nicolette shook her head and continued several paces ahead of me. "Those guys were like my age, not yours. Maybe if you dressed more suitable for your age…"
She hated my existence, but it was a learned behavior from our mother so I tried not to take it to heart.
I glanced down at my outfit, jeans and a white long-sleeved shirt.
"I didn't realize this was inappropriate for my old age of twenty-seven," I quipped back, before we grabbed our bags and stepped into the frigid November air.
The wind blew our matching brown hair around like a tornado. Both of our blue eyes held an icy gaze- for different reasons. She was stuck with me, and I was heartbroken with the loss of our dad.
A familiar figure stood against a black SUV. The spitting image of my father- blue eyes, blonde hair, lanky and tall. I ran into him and hugged him tight. "Uncle John!"
"I missed my two girls," he replied, before grabbing our bags and hauling them into the back of the Suburban.
Nicolette shrugged her arms around him, giving an awkward tap on the shoulder. Her headphones remained in her ears as she climbed into the backseat.
"How's my little CEO?" he asked, pulling out into traffic.
"Exhausted," I answered honestly. "I'm hoping you'll help me sort through everything. I don't want to do this on my own."
Uncle John nodded, keeping his eyes steady on the road ahead. "You'll never be alone as long as you have me."
I was grateful for him, and there was much truth to his declaration. He'd never let me deal with the mess my life had become on my own. Unlike my mother, who was praying I'd crash and burn.
"I know you just got in, Kate, but we need to meet with Richard's lawyer to read the will and sign paperwork for what you guys are left with."
I nodded, though not wanting to hear my dad's belongings split between his loved ones. "Trust me, I'd rather get it over with now then never think about it again."
Nicolette and I faced off in the kitchen of my dad's penthouse. I swear steam floated from her forehead. Her posture stiffened, readying for a fight.
"I can't believe you took everything!" she shouted at me.
I opened the refrigerator and grabbed the first thing I could find containing alcohol. Budweiser- ewe, but it'd have to do. My dad really was all-American.
"I took nothing, Nic. He left me the business."
She followed suit, grabbing a beer from the fridge. At only nineteen, I should have stopped her from drinking, but I was picking my battles at the moment.
Her hand tightened around the bottle. I prepared myself to have it heaved at my head.
"Because I'm the one who's worked my ass of to be part of this company," I said, my anger rising with my words. "First, I'm eight years older than you. Second, I graduated with an MBA from Columbia.
"Third, I dropped my life here and moved to Paris to run the foreign sector of his company. I've worked for this, Nicolette."
She finished the first beer, then grabbed another. A steel look still ever present in her pretty eyes.
"This is all your fault," she complained.
It was my turn to sigh now. Nicolette was exhausting. "You heard the will. As soon as you discover what you want to do for a career, I can give you access to your trust fund.
"Which is a crazy amount of money, so don't act like you got nothing. Okay?"
She turned away, stalked into her childhood bedroom and slammed the door behind her. A picture fell to the ground, shattering glass across the floor.
I swept it up, then held the old picture in my hand. Dad looked young and carefree, hair blonde as the sun. It was really gray, though, he'd been having it dyed for years.
The beer would not cut it anymore, so I searched for something stronger. A crystal glass, filled with Dad's expensive scotch sat atop the bar.
I filled the liquor to the brim of the tumbler; sinking to the floor, I was careful not to spill even a drop. I leaned my head against the stainless steel stove behind me and took my first sip.
My dad had a love for scotch, like most of the older generation. I hated it, only drinking it now because I couldn't find anything better.
I gulped the scotch down, ran my fingers through my hair, and searched for my phone. An incoming text popped up from my best friend, whom I haven't seen in two years.
Piper
I can't believe I'll see you in only ten minutes. Also, I'm coming to the game with you tonight. Xoxo
I poured another glass of scotch, gagging as it burned my throat.
The game tonight… I couldn't wait. I missed the game itself and the time spent there with my dad. In France, even sitting in my corner office, I live-streamed the New York Blades games.
I pretended I was there with him, back when my life was filled with simplicity.
I'd met some of the hockey team's veteran players when I was younger, but none of the new guys. And now that I took over my father's ownership of the team, I hoped I'd be respected by the players.
I made my way through the pristinely kept penthouse. Photos of Nicolette and I ran along the walls, and even some of my mother.
I assumed our father enjoyed remembering the way she used to be before she had children.
A framed picture centered the long hallway wall that led to my old bedroom. The frame was tattered and worn; it was a picture taken many years ago.
My dad had his arms wrapped around my shoulder, my grin wide as it'd ever been, holding a hockey stick. We stood center ice at Madison Square Garden.
Julian, the Blades head coach, also Dad's best friend, stood with us. I pressed my finger to my lips, passing a kiss along to the photo.
I pulled the barn-style door to my bedroom open and instead of looking around, I fell face down on my bed and screamed into the silky red and black comforter.
Rolling on my back, I watched the chandelier hanging above my bed. My dad had it custom made for me when I was thirteen.
Snippets of gold mixed with the crystals had a voice of elegance that even a teenager could appreciate.
I miss you, Dad. I only hope I can make you proud. I whispered, praying he could hear me from above. On cue, the crystals of the chandelier bounced paths of light across my snow-white walls.
"Well if it isn't my boring corporate best friend."
I whipped around to see Piper's beautiful face, standing only a few feet away from me. A flask of God-knows-what was held up to her lips. I ran to her.
"I missed you, my slutty drunken best friend."
We stayed in a tight embrace for minutes. Piper was the one person who I needed in my life, and I'd never been happier to be home than I was now.
I'd need her help if I was to survive filling my dad's shoes.
"So you're coming to the game?" I asked her, eyebrows raised. "I thought you hated sports."
"I do," she replied. "But I love you more. Now drink up." She handed me the flask, and I immediately tasted the bite of tequila.
Piper laughed at my reaction, then chugged some herself. A fog passed over her brown eyes, telling me she'd been drinking for a while now. Piper was a partier, always had been.
She squeezed me one more time. "Sorry about Richard, babe," she said. "My heart is broken for you." I offered a small smile of thanks. "How bad was the will reading?"
"It was brutal, Pipe. Like really brutal."
"Sorry. Let me guess, Nicolette's being a bitch?"
"You have no idea, but I'll tell you about it later. We only have twenty minutes until we have to meet my uncle's," I said, sorry to cut our alone time so short, but she understood.
Piper dug through my purple suitcase. She found the black pair of skinny jeans that I wore practically every day in college and threw them to me.
Then tossed over a loose white tank-top and a nude jacket to pull over it. My best friend helped me with my makeup, knowing I usually went for a more natural look with soft colors.
She forced me to do vibrant red lips and dark eye makeup to make my ocean blue eyes pop. I rummaged through a small box of jewelry and picked two large diamond studs to place in my ears.
I checked myself out in front of the full-length mirror and saw the old me, the fun me.
"You look hot as shit," Piper said, bringing me back to the present.
I raised a brow. "Is shit hot?"
She stood beside me at the mirror, dropping nude stilettos at my feet. We agreed we looked good enough to leave. I stopped in the kitchen to pen a note to my sister.
Out for the night. Call if you need anything. I love you, Nicolette.
Thirty minutes later, we stepped out of the cab, staring up at the towering Madison Square Garden. The people of New York City never failed to amaze me.
In a two-minute span, four people bumped into my shoulder almost knocking me over. All failed to apologize or even acknowledge their lack of courtesy.
Paris was eerily similar, but at least New York was my home.
My two uncle's, Fred and John, met us at the front and ushered us inside the building and out of the cold. It was odd standing beside two men that looked identical to my dad.
When they were kids, people always questioned if they were triplets. They weren't, just three brothers that looked too much alike for their own good.
We were then escorted to the owner's suite inside the arena. Hockey games never failed to make butterflies flap within my stomach.
There was still time before the game began, but my excitement caused me to have a shaky leg. A bottle of expensive champagne chilled in an ice bucket with glasses hanging around the brim.
"It's good to have you home, kid," John said, patting me on the back. "And of course, it's wonderful to see you, Piper. Let's celebrate."
"What exactly are we celebrating?" I asked.
John's eyes lit up. "The wonderful life your father lived, his love for you, and the fact that you now own the majority of your father's precious hockey team."
To that I smiled. Our glasses filled, and we tapped them together in the center of our circle. "Salute." And we drank. Piper and I more than my uncles.
The notorious song for the team boomed through the speakers and the guys skated onto the ice. The lights dimmed except a spotlight lighting up the NYB at center ice.
The voice through the speakers announced a moment of silence in memory of my father. The entire arena silenced, men taking their hats off, all bowing their heads.
It was quite moving to witness the respect everyone held for Richard Martin.
I spotted the numbers of the veteran players and couldn't wait to see them. Hans and Jaromir. I hadn't seen either since before I began at Columbia.
"Are all hockey players smoking hot?" Piper asked, watching the large screen above the ice show the faces of a few players.
"Lucky." She tucked a long lock of brown hair behind her ear. "I can't believe you own a fucking hockey team."
We had one of the few teams left that was owned and run by family. My two uncles and I owned the team, and the Blades' general manager was my cousin, Kevin.
We never got along, and I could promise that I'd have no problem firing him if he did things that wouldn't make my father proud.
Two hours later, the game ended with a score of 6-2. I stood to cheer with my co-owners and we all laughed our way out of the suite.
"I missed these games. Actually being here for them," I told them wistfully.
Piper and I both held grins spread ear-to-ear as we were walked down to the locker room to meet the players. Just outside, Fred caught up with head coach Julian.
He pulled him aside to make introductions.
"No," Julian said. "This can't be my little Kitty-Kate."
His hair was now completely gray and lines marred his cute old face. Julian played hockey with my dad back in college, and they'd worked side-by-side ever since. Julian was also my God-father.
He pulled me in for a hug and I squeezed him back.
A minute later, he excused himself, telling us to wait for the reporters to leave. We talked amongst ourselves in the corridor until others began clearing out.
A few stopped my uncles for a word, luckily they had no idea who I was yet.
Piper and I inched closer to the door, hearing Julian scold one of the players for a dirty hit on the ice.
The sounds of lockers banging open, and bags zipping and unzipping implied the players were heading for the showers. Bummer. I leaned against the wall closest to the door.
"You see those hot chicks in the owner's box?" A male voice spoke from inside. I gasped, looking at Piper's eyes turn to a sultry gaze. We edged closer to the door to hear more.
"Yeah," a different voice said. "I wonder which one they fucked to sit up there."
I nearly choked. Okay, Kate. This is it. Be a tough businesswoman.
One chance. Was I going to demand respect and make them realize I owned the hockey team they played for, or was I going to sit back and pretend like I didn't hear anything.
I was aiming for the latter when I made a sudden decision and shoved the door open with my palm.
Piper began laughing loudly. Four men were within sight, and two weren't dressed. I tried to ignore that. Tried being the key word. They didn't bother covering up, confident enough not to.
I turned away, glaring at the two men closest to the door- the ones with clothes on, thank God.
"That would actually be incestuous," I said, holding their attention. "I did not fuck anyone to be sitting in that owner's box, as you so eloquently pointed out." I stuck a hand out in front of me.
"I'm Kate Martin. New owner of the New York Blades."
Read the full uncensored books on the Galatea iOS app!
2
The men stared, mouths agape with a slight red blush creeping onto their cheeks. Chris Jagr, a forward, whom I've heard a lot about.
I'd even done damage control while in Paris after some crappy stories were thrown around about him in the papers.
The other was Jace Crocker, a rookie defenseman who impressed the hell out of me in tonight's game.
"Hello, boys, I'm Piper," she said, clearly infatuated by their looks. "I'm Kate's best friend."
Even with Piper trying to lighten the mood, it was growing more awkward by the second. The boys never said a word, too dumb-struck to speak, so I made it easy for them.
I gave them a curt nod, then we walked back out of the locker room.
I kissed my uncle's on the cheek, telling them to phone me with details of a meeting I needed to attend. .
They attempted to get us to stay, but we rushed away to meet our other friends at a bar near The Garden. I sighed in relief once we reached Russo's .
Eleven o'clock on a Saturday night and the bar was filled to capacity.
"That was fun," Piper joked. "I should go to the games more often. Those boys were delicious."
"Keep your hormones in check, Pipe."
We pushed our way to the bar, dropping down on swiveling stools beside our other friends. Arms were immediately thrown around my shoulder.
"Kate the great!" Eliza shouted from the top of her lungs. She now worked as a corporate events' planner, the career suiting her well. She was a tiny little thing, barely over five feet tall.
Blonde hair and green eyes gave her miniscule frame a beautiful pop.
Sara reached me next. "You look incredible," I said to her as she leaned in to hug me. Sara was a model, a swimsuit model. I thought she could stand to eat a few burgers, but I kept that to myself.
Dark skin, hair, and eyes always added that mysterious feel to her already stunning look.
Piper was already throwing shots back beside me. I grinned at her, shaking my head. She passed one over to me.
"Let's see how boring Paris really made you," she tempted, knowing I'd want to prove our friends wrong.
"Prove it," Piper said with a sly smile.
I waved the bartender over, handed her my black credit card and asked her to open a tab. I proceeded to order a round of tequila shots for every person standing in that bar.
When the bartender announced it, the screams deafened me.
The initial excitement wore off, and Sara and Eliza used the opportunity to offer their condolences for my father.
"Thanks guys, but the goal of tonight is to get my mind off of all that. That's why Piper forced me to be out tonight," I said. "I'm pretending none of it happened."
"We can discuss the fact that you're about to be the most sought out woman in New York." Sara laughed, raising her glass.
We clinked ours together, and I toasted. "Here's to my three friends, who, I can go years without seeing and it feels like we never parted."
Shortly after, the bar began to spin.
We laughed for what felt like forever, reciting our favorite college memories. For the first time in a few years, I felt comfortable.
I was back on my home ground, with people that loved me and knew me well before I became the businesswoman I am today.
They didn't see dollar signs when they looked into my eyes, and they definitely didn't see the stern CEO side.
"How many hotties did you nab in Paris?" Piper asked with a sultry smile curving her lips.
I rolled my eyes, throwing back another shot. "Ugh." My friends glared at me, wanting every juicy detail I could offer. "A few, I guess.
"Some were a little crazy, some wanted to up their social status, and some wanted my money. But they all had something in common- they were boring."
My friends faked astonishment before breaking into a fit of laughter. "You're just too picky," Sara claimed. "But now you're back in the man-pool we call New York City."
My friends' eyes had all turned slightly hazy, no doubt due to the excessive alcohol. "I don't have time for men." I held a finger up to signal the bartender.
She nodded then appeared with another tray of drinks. We had moved on to various mixed drinks, knowing we couldn't live on shots all night.
Piper looked up from her glass, raising a brow. Her voice was elevated due to the high volume of noise in the overcrowded bar. "Don't have time?" she asked.
"How can Kate the Great not have time for men? Spending too much time with Henry?"
Her lips turned up into a devilish smile I knew all too well. Her eyes moved around me, I was about to follow them until a voice spoke up and rumbled my body to the core.
"Well now you have me curious," the deep voice spoke. "How does one get the nickname Kate the Great? And who could Henry possibly be?"
I spun on my barstool, my face an inch from his. Dark brown hair, matching dark brown eyes, and a rather impressive jawline covered with neatly groomed facial hair.
He looked young, too, younger than me. I opened my mouth to speak, but the words wouldn't slip out. He was hot , on fire even.
I doubted my mind would be this boggled if I'd been sober, but a night filled with long lost memories, and far too much alcohol diluted my ability to think straight.
"I… I don't know how I got that nickname."
His eyes lifted above my head when one of my friends started speaking for me. "First, Henry's her vibrator. .
"Second, she got that name because she was the ultimate in college." The guy's eyes sparkled as she spoke. "She had men wrap themselves around her pretty manicured fingers, and then she'd walk away. .
"This girl's a heartbreaker, right here in the flesh." It was Piper chiming her obnoxious two cents in. .
I didn't break hearts, I just cared more about my education so I could work with my dad, rather than falling in love. I didn't have time for that then, and I definitely don't have time for that now .
I still found myself defending my honor. "No," I butted in. "No. Definitely not a heartbreaker." I had been glaring at Piper, then turned back to the handsome guy leaning on the bar beside me.
"They're making this up." My words slurred while my friends giggled behind me.
His gaze held fire to it. "But you don't deny that Henry is who they say he is?" he asked with a smile.
"Uh…" I spun around to glare at Piper one last time, before turning back to him. "No," I said. "I don't deny that."
He laughed a laugh that made my body tingle. It was throaty and raw. Sexy. "I'm Tyler." He held out a hand to me, which I graciously accepted. His touch was warm and strong.
"Kate," I replied. I felt the heat rush to my face, it had been quite some time since I felt flustered around a guy.
"You know, Kate," Tyler said. He craned his neck to the side, giving me a glimpse of a tattoo that edged around the bottom of his neck.
"The way I see it is that you've clearly been with the wrong kind of guy if you devote more time to Henry than to a real man."
My cheeks reddened. We really needed to stop talking about my vibrator. "Or maybe there are no real men left in this world," I replied, hoping I sounded confident and cool.
Tyler leaned in closer to my face, and I froze. The proximity, oddly enough, made me feel alive. "Or maybe there's one standing right in front of you."
His lips turned up before he looked away, signaling the bartender. When his gaze met back with mine, I couldn't help my own smile from forming.
The cute bartender handed him a full glass of beer, and he dropped some bills on the top for her to scoop up. He let his fingertips slide across mine.
I wanted to pull my hand away from his, but I couldn't move. The way his chocolate eyes laid on my blue ones…
"Well Kate," he said. "I hope you have an incredible night." And he walked away.
What? He left me hanging on his every word. That asshole.
I turned back to my friends. "Did that seriously just happen?" I asked them.
Eliza was still staring after him. "Y-yeah…" she stuttered. "He's so hot."
I snuck a glance behind me, looking for him nonchalantly. He leaned against an exposed wooden beam. Two other guys stood in front of him laughing during what I assumed was small talk.
I didn't know if Tyler felt my eyes glued to him, but his head turned to me and he winked. He actually winked at me. I quickly spun back around to my friends and laughed hysterically.
"Who does that?" I mumbled to myself.
The bartender brought another round of drinks, something fruity looking and pink. I ate the cherry out of it and shook my head with annoyance.
I tipped my glass back and let the sweet liquid flow down my throat. I was already quite drunk, but after the awkward encounter with Tyler, I wanted more. More of the drink and more of him.
"Oh!" Eliza exclaimed. All of our heads followed where she was staring. "They're hot," she said, nodding her head toward a new group of men that walked in the bar. "Who wants to be my wing woman?"
"Let's go!" Sara replied. They both flew off their barstools like their lives depended on it, making their way over to the men. Their moves slowed, becoming more graceful the closer they got.
Sara casually bumped into one of them and started giggling. Piper and I watched in amusement as she used her finger to wipe up the small amount of her drink she spilled on his shirt.
She popped her finger into her mouth, and by the look on the guy's face- she scored.
I turned back to Piper and laughed. "Those two are relentless," I said.
"Hey. They've got it figured out." I nodded and continued sipping on what was probably my tenth drink. "Kate.
"I think I know exactly what you need to ease your mind about everything going on." Piper's eyes gleamed as she spoke.
"And what do you think I need?" I asked even though I knew what she had in mind.
"A night with that guy," she said. "He was smoking hot, and we don't think that because we're drunk. Every girl in this bar has checked him out at least once." She looked around my shoulder.
"And his two friends aren't bad to look at either."
"Normally I'd tell you that your ideas are never ones to listen to."
"But I'm so drunk that I may agree."
She leaned in, hugging me tight, her brown hair falling in front of her face. "If you go talk to Tyler, then I'll go talk to his friends," Piper said with excitement.
"Are you trying to bribe me?" I raised a brow.
"Possibly," she said. "I know you don't want your best friend to be lonely tonight, so I suggest that you go talk to him so I'm not all alone forever and ever and ever-"
I looked over my left shoulder only to see Tyler's eyes blaring back at me. That wicked smile gleamed. If he found me so interesting, then why had he not made an effort to talk to me more at the bar?
Unless this was his game. He liked to leave women wanting more of him. Well, two can play this game.
"Game on," I mumbled. "Tomorrow when I regret doing this, please remind me that you're the worst friend ever."
Piper stood from the stool, straightening out her shirt. "I would never remind you of such a thing."
I closed out my ridiculous bar tab, left the bartender a significant tip, and began marching to Tyler with purpose. His other friends turned and regarded us making our way through the crowded bar.
People danced, sweat dripping from bodies rubbed up against me far too much, but it would be worth it once I stood an inch from him again.
Tyler wore a black sweater that zipped half way up the front, and jeans that showed his perfect butt. His grin grew wider seeing us approach. Surely, he thought he'd won this little game of his.
The moment we reached them, Tyler opened his mouth to speak, but I cut him off when I threw my hands around his neck and pressed my lips hard against his.
His arms circled my waist in a matter of seconds. I grew weaker wrapped up in his strength. The kiss was far more amazing than I had imagined it. It was hungry, passionate, everything I'd never had.
The other men I'd been with were nothing like him. Always wearing suits, sitting in boring business meetings, and when they kissed me it was like kissing a friend. Light, sensitive, and average.
I'd been fine with that in my twenty-seven years of life, but I hadn't known anything else. Until now.
It took much strength, but I was able to pull away from him a minute later. His mouth still hung open, wanting more. He leaned in trying to pull my body back against his. "Well Tyler," I copied him.
"I hope you have an incredible night."
I turned and rushed away from him, knowing Piper would follow behind. Tyler yelled for me to wait, but I kept moving.
Out of the corner of my eye, I saw him watching me, shaking his head with a grin on his face.
I waited outside for Piper to catch up, when she finally did, she was winded. "That kiss had me feeling hot and heavy!" she exclaimed. "You've still got it, Kate the great."
I laughed and threw my arms around her. "Thank you. I needed that, and I never would have done that if you hadn't forced my hand."
She texted our other two friends, who were fiercely making out in the corner with two of the men they had walked up to. I had no doubt that they'd end up going home with them.
Piper and I giggled while waiting for a cab. I couldn't believe I kissed a stranger in a bar; that was very unlike me.
Piper gave the cab driver her address, then I gave mine. She looked at me expectantly. I turned to her. "What?" I asked.
"I gave that guy with Tyler my number. His name's Ben, and he already texted me."
I raised a brow. "Wow," I said. "He moves fast." I laughed, but noticed she wasn't laughing.
Piper smiled a sweet smile, the same smile she used when she was trying to get what she wanted. "Ben texted me asking for your number." She paused briefly. "For Tyler."
"Don't give it to him," I insisted. "Yes he was hot, and yes that kiss was hands down breathtaking, but I do not have time for a guy in my life."
She pressed a button on her phone, her eyes never leaving mine. "Oops."
I glared at her. I should have known she'd send it anyway. "I hate you."
The rest of the cab ride, I wanted to yell at her, but couldn't. She gave him my number thinking it was for the best.
Granted, I could use a wild night with a delicious looking guy, but I had to get my priorities straight.
I had many meetings over the next couple of days, my dad's funeral, deciding what to do with his penthouse, and finding a CEO in Paris. I had too much on my mind to deal with Tyler.
But really, what were the chances of me seeing him again?
I entered my dad's house quietly, not wanting my loud high heels to wake my sister. Her door was slightly ajar, but all the lights were off.
I debated going in to talk to her, but if she was still mad at me, then it would prove pointless. I pulled my heels off and left them in the hallway, making my way to the kitchen.
I needed water, I was dehydrated and exhausted. It took ten minutes, but I found where my dad kept the glasses and filled it with water from the fridge.
I pressed a button on a remote my dad left on the counter, a small light illuminated above the sink. I laughed inwardly thinking of my dad and his damn remotes. He had one for everything.
The note I left for Nicolette still sat on the counter, except now a pen lay next to it. I picked it up to see if she wrote something back to me.
Okay, then. I crumpled up the paper and tossed it in the trash, then made my way to my old bedroom. I stripped out of my clothes and jumped in bed wearing only underwear and a t-shirt.
I kept the lights off, I always had an easier time thinking when it was dark. If the lights were on, I'd find myself distracted by anything and everything I set my eyes on.
I weighed my options. I could send Nicolette back to France with my mom, but I knew dad wouldn't want that. Our mom stopped being a good woman the moment she had me.
Alcohol and prescription pills diluted her every moment. My dad always said she had mental issues, but I knew she truly felt hatred for me.
When I was ten, I found a journal she wrote in. Multiple entries were dedicated to her jealously of me. She thought my dad loved me more than her, but that wasn't true. He just loved us differently.
When Nicolette came along, our mom devoted her time to my sister, making sure she wouldn't feel the supposed hurt of my father loving me the most. Of course that never happened.
My dad adored Nicolette, she was his baby.
The only reason he left everything to me when he passed was because I was the only one who showed a work ethic. I was my dad's right-hand man since I was a child.
I accompanied him on every business trip, loving every moment of it. I sat beside him in meetings, pretending I was truly involved.
My interest in his work while growing up put me in the position I'm in today. A twenty-seven-year old heir to hundreds of millions.
The difference between me and the majority of kids inheriting a fortune is I actually worked for it. Running the foreign sector in Paris was no easy task.
Unfortunately, now I'd have to give that up and acquire a CEO to run that aspect for me.
With everything going on in my life, I was surprised by the one face I saw in my head before drifting off to sleep. A sexy guy I kissed at a bar.
Read the full uncensored books on the Galatea iOS app!