21-year-old Julie Theroux was adopted, so she's shocked when her biological grandmother leaves her property. She heads to Del Muerto to check it out and discovers life-changing family secrets. With the help of the attractive Sheriff, Julie must piece together her past…and control her increasingly wild tendencies.
Age Rating: 18+
Aether by Kate McKeown is now available to read on the Galatea app! Read the first two chapters below, or download Galatea for the full experience.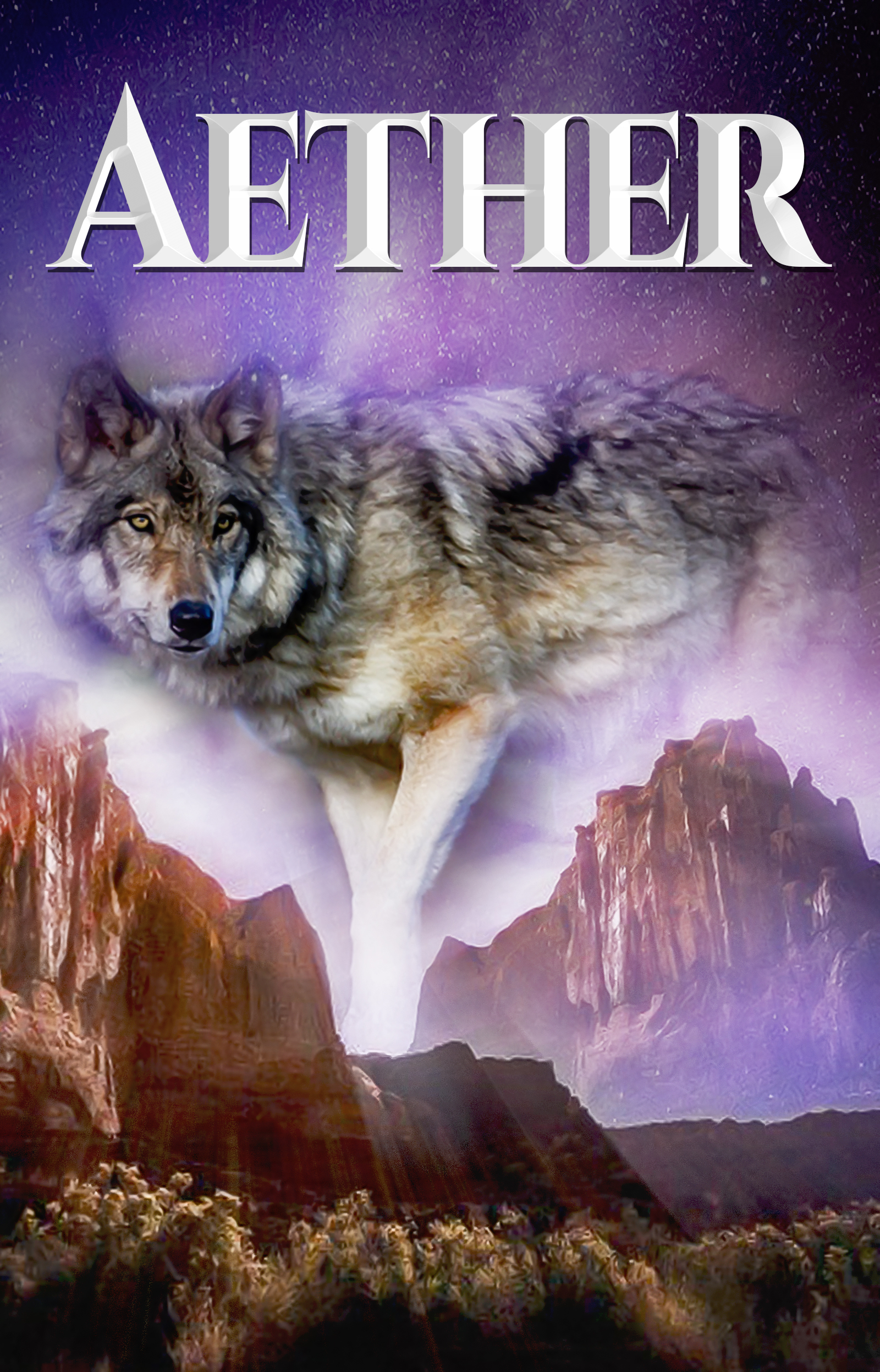 ---
The app has received recognition from BBC, Forbes and The Guardian for being the hottest app for explosive new Romance, Science Fiction & Fantasy novels.
Read the full uncensored books on the Galatea iOS app!
1
Summary
21-year-old Julie Theroux was adopted, so she's shocked when her biological grandmother leaves her property. She heads to Del Muerto to check it out and discovers life-changing family secrets. With the help of the attractive Sheriff, Julie must piece together her past…and control her increasingly wild tendencies.
Age Rating: 18+
Original Author: Kate McKeown
Chapter 1
The moon shone bright in the Arizona sky, the old woman walking slowly through the yard of the farmhouse, her destination clear.
The curtains behind a tiny house swayed as the occupant looked out, moving back in place when she shook her head at him.
She walked alone, her steps a little stiff, scars from many battles slowing her down. She knew the time had come, she was done. Her destiny was clear, the rest of the tribe uncertain.
She walked through the yard to the farmhouse, moving directly to a sideboard. Opening the doors slowly, she looked at the pots sitting inside, feeling the faint hum from them in her soul. "Don't worry Lost Ones, she will find you, we just need to bring her here. I am tired, my time has come." She didn't touch the pots, wanting them to feel another's touch rather than hers.
Sensing her time was near, she closed the doors quietly, standing up looking around the living room of the house, nodding before walking back onto the steps leading from the kitchen door to the yard.
The moon lit a path down behind the farm disappearing into the surrounding mountains.
She looked back again at the house, hoping all of her planning would work, because if it didn't then her tribe was done, ceasing to exist.
Looking up at the moon, she took a deep breath, disappearing down the path following the light as long as her body would take her.
Elsewhere another old man looked up at the moon, his body broken. He felt her flight, thought about their life together then dismissed her from his mind like a piece of garbage. Turning in his wheelchair he whispered, "It has begun."
The car spend along the lonely highway leaving a trail of dust in its wake. The Arizona sky was a bright blue, not a single cloud marring the warm day.
The first day of October, rather than starting with a cup of coffee in her Baltimore apartment before work at the bookstore, Julie Theroux enjoyed the warm breeze running through her long blonde hair as her foot pressed the gas pedal.
When the certified letter came, Julie immediately put in for a leave of absence, her mother trying to talk her out of it.
"Honey, there is absolutely no reason for you to travel to Del Muerto, Arizona," Shirley, said, looking at her daughter sipping on a cup of coffee."You don't even know what's there!"
"Mom, I have to go there. This is huge! I have a blood relative. I have a grandmother, Limosa Weatherhead. I don't know how to explain it, but I have to find out more about her," Julie replied, sitting across the table from her mother. She fingered the letter, "I feel drawn to Arizona, I have to go there."
"Julie, when we adopted you, there were no blood relatives. You were part of the system." Shirley Theroux said to her daughter, "How do we even know she is your blood relative?"
Julie pushed the letter and the will across the table to her mother, "We don't. But this is a chance I need to take! I had a grandmother I didn't know about, and now I own a farm outside of the town of Del Muerto, Arizona. I have to go and check this out. It is my heritage."
Shirley looked nervous, "I don't think traveling all the way out to Del Muerto alone is a good idea. Why change things now, just sell the farm. You could use the money to go back to college, finish up your Wildlife Biology degree, move on with your life. There is nothing there for you."
Julie looked down at the letter, "Mom, I feel like something is waiting for me. As far as I can remember, it's just been you and me. I never really thought about a real family until this came along. I want to see who she was, feel a connection with her, even if she has passed. Maybe I can find out more about who I am, then I can sell the farm and go back to college."
Shirley shook her head, "Julie, when your father and I adopted you, I had no idea what was in store for us. His passing did make life harder for us, but it also brought us closer together. Why change what we have now for someone you don't even know?"
Julie looked at her mother, understanding the nervousness she felt, figuring Shirley felt threatened by a blood family. "Mom, you are my mother. Nothing is going to change that. I love you more than anything. But this letter shows I have a past, I may even have family in Del Muerto besides Limosa Weatherhead. I have to go and find out. I have to find out my life's story. I have to go."
Shirley looked at the empty cup of coffee, reaching into her purse, pulling out an envelope. "Well, there isn't much here, a collection of my tips, It could buy gas along the way."
"Gas?" Julie's eyes brightened looking at her mother.
Shirley smiled, "It is not in the best condition, but it is a car. I was able to talk with TJ at the auto shop and got a great deal. He has checked it out, it will get you to Arizona and back, you just have to keep putting water in it."
Julie jumped from the table hugging her mother, "Oh my God, I don't have to take the bus all the way out there!"
Shirley smiled, "I don't know if my tips are enough to get you out to Del Muerto, but they can help."
Julie opened the envelope pulling out a check.
"There's also a check for $1500 with the will, that should be more than enough to get out there and back. I called the bookstore and they gave me some time off. I have the money, I have the time, and now I have a car. Everything is falling into place. I think I will regret it if I do not take this opportunity. Something is pulling me to Del Muerto."
Enjoying the open highway, Julie touched the letter, envelope of cash and her wallet watching the yellow lines disappear.
Until her 21st birthday, she felt like she was just existing, waiting for something. The letter arrived on her birthday, turning her world upside down, but in a positive way.
Julie wasn't going to question how her grandmother found her, or why she waited until her 21st birthday, she was going to enjoy an adventure, her first of hopefully many.
Her sensible side reminded her if it didn't pan out she always had Baltimore. She loved the drive, especially the parts at night, when the moon was full.
It lit a path for her along the way, she didn't tell her mother but sleeping in the car under the moon by the side of the road was comforting, it felt like she belonged.
She took a few breaks, trying to get as much driving behind her, her excitement mounting as state after state fell away.
Part of it was the possibility of a real family in Del Muerta, if she had a grandmother, maybe she had parents and possibly siblings.
Adopted by the Therouxs at 6 months old, Shirley and Don were the only family she ever knew.
There was never any secrecy, Julie knowing she was adopted from a young age, they always gave her freedom to pursue her real family, something Julie never desired.
When her father died of a heart attack, she used all of her energy helping her mother keep things together, getting the extra job at the bookstore while still in high school, understanding when they couldn't afford the second year of college.
Carla and the people at the bookstore became a second family to her, Julie continuing her education the store, waiting for the opportunity to return to college.
When she showed her friends at the store the letter, they told her she was stupid not to go, Carla making her take the leave of absence.
Julie wondered if her long straight blonde hair came from her grandmother. Limosa Weatherhead, sounded Native American, how did she have Indian blood with blonde hair and green eyes?
She called them green, every remarked they were more of a moonstone, green with flecks of brown and blue.
Her adopted father always joked her looks came from him, both parents remarking how her eyes sparkled different colors when she was laughing.
Julie was taller than both her parents, coming in just under 6 feet, causing a lot of problems when it came to boys in high school and college.
She didn't care much about boys anyway, some of her friends joking she was a nun, married to nature with the amount of time she spent outside.
When she was a child, Julie spent so much time in the park behind their apartment several of the birds became friends, lighting on her hands as she fed them little tidbits.
She always felt the pull of freedom being in the woods, she felt like she belonged there.
She remembered sitting on the back balcony of the apartment on a night of a full moon with her mother and resisting the urge to howl at the moon. Instead she looked over to Shirley saying, "La Bella Luna" her favorite line from the movie Moonstruck.
The moon always captured Julie's imagination, the bright light suggesting magic in the air. She thought about magic as she drove through the night following the moon's path.
This beautiful sunny October day, rolling along the highway with the windows down, Julie felt like she was flying, excitement about her new adventure edging the car a little faster.
Turning up the radio, she belted out Aretha Franklin at the top of her lungs.
Read the full uncensored books on the Galatea iOS app!
2
Sitting in his police cruiser outside Del Muerto, Deputy Sheriff Steven Littlefoot was reading a Stephen King novel, drinking a cup of coffee.
Usually in the office at this time, another deputy Sarah Winchester was called home to a sick child, prompting him to take over her patrol.
He didn't mind, he actually enjoyed the quiet of sitting in the cruiser, doing what he wanted to do, reading a little bit, quietly letting the peace of the desert invade his soul.
Sheriff Jack Higgins radioed out to Steven, "Steven you there?"
Steven picked up the cruiser's radio, "Yes sir, just sitting here. Do you need me to come in?"
There was a long pause on the other end of the line, "No, be alert. Keep your eyes open for anything OK?"
Steven looked at the radio, "Yes sir, as alert as you can be sitting out in the middle of nowhere waiting for something to happen."
There was a chuckled on the other end of the radio, "Oh, something is about to happen."
At 21 years old, Steven was the youngest Deputy in Del Muerto, put through school by a scholarship from the citizens of Del Muerto because everyone in town agreed he was the best choice for the job.
With a department of Sheriff Higgins, Steven and Sarah along with a few volunteers, there wasn't much to govern, the sleepy town not providing much in the way of crime.
Steven leaned back in the car, enjoying the quiet of the afternoon. He closed his eyes, taking a deep breath, letting it cleanse his body, slowly letting it out.
Far out along the rim of the Canyon del Muerto, several things lined up, something formed out the Earth, pulling different things from the sky, the sun, the arid ground, testing it first before starting its journey through the air drafts running along the side of the canyon.
Picking up speed, it turned, moving faster than a car along the highway, until it hit, moving through Julie's car like a whisper, continuing down the highway finally hitting Steven straight in the chest.
Julie's hair stood on end, her fingers gripping the steering wheel as the car sputtered a few times, the engine fighting against the pulse of energy rather than riding with it.
She looked down at the speedometer confirming the car was slowing down, trying the gas pedal again but after a sputters, slowly pulling it to the side of the road.
Opening his eyes, Steven sat straight up in the car, his breath coming out in one long gasp.
His hand touched the spot on his chest where the energy went through, looking up and down the lonely highway for the source of his anxiety, finding only a few clouds of dust sweeping by.
Something stirred in him, making his heart beat faster, Steven checked the police monitor, waiting for it to go off. Usually his intuition was on target, telling him something was wrong.
He looked up and down the highway, finding only lonely road. He started sweating, his hands slowly closing the book as he put the coffee cup in the holder. Something was not right.
Something was making him start the cruiser, throw the car in gear starting down the highway away from Del Muerto.
Read the full uncensored books on the Galatea iOS app!