Nola wants nothing more than a happy family of her own, but being forty and a divorcee means the hourglass is turning on her dream. After sharing a steamy encounter with handsome businessman Duke, she wonders if life's about to change for the better. But Duke has other ideas—that is, until he realizes he might lose Nola. Now, life's about to become unrecognizable for the two of them…only, not in the ways they planned.
Age Rating: 18+
Nola & Duke by Rachel Lyons is now available to read on the Galatea app! Read the first two chapters below, or download Galatea for the full experience.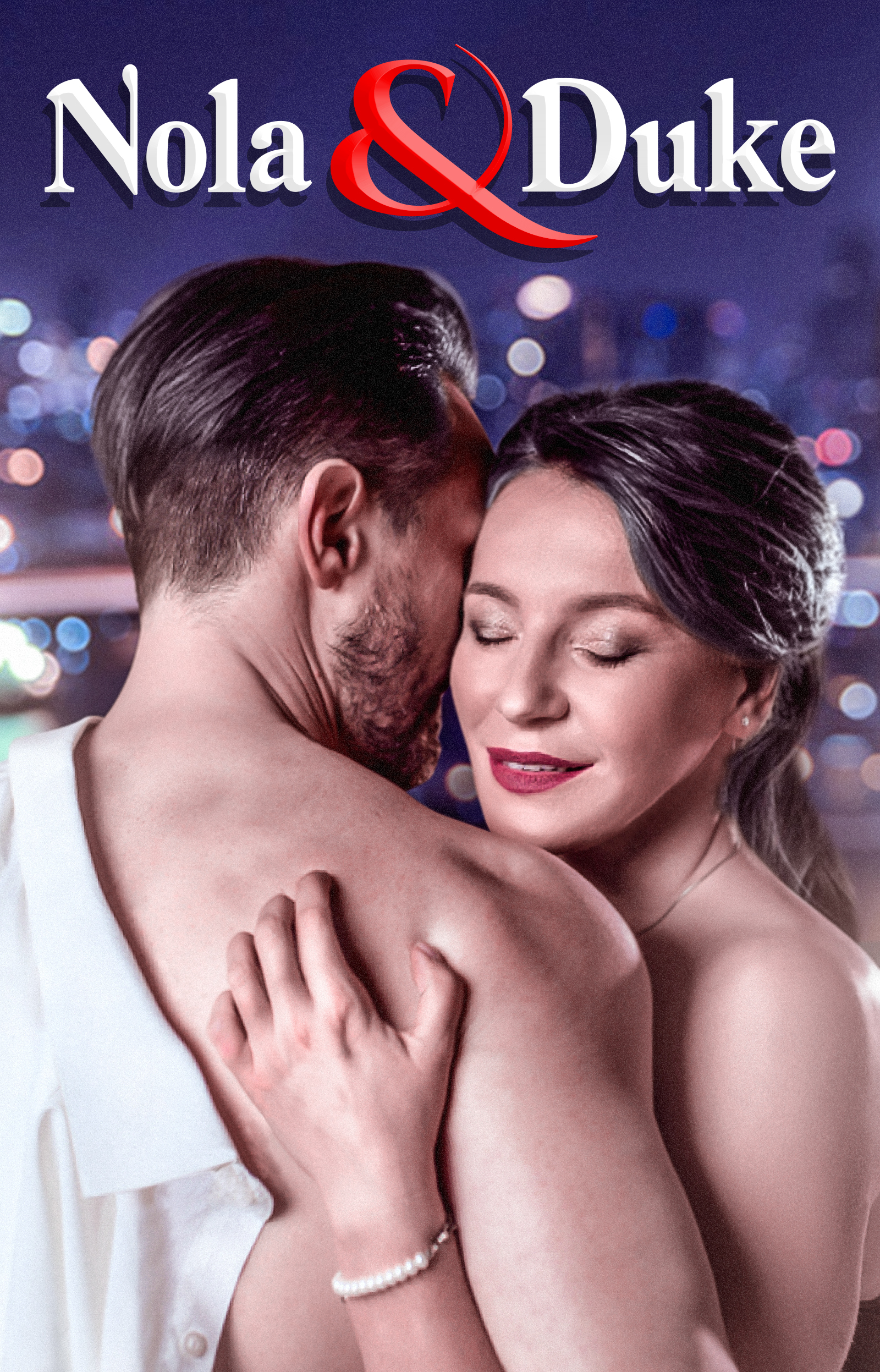 ---
The app has received recognition from BBC, Forbes and The Guardian for being the hottest app for explosive new Romance novels.
Read the full uncensored books on the Galatea iOS app!
1
Summary
Nola wants nothing more than a happy family of her own, but being forty and a divorcee means the hourglass is turning on her dream. After sharing a steamy encounter with handsome businessman Duke, she wonders if life's about to change for the better. But Duke has other ideas—that is, until he realizes he might lose Nola. Now, life's about to become unrecognizable for the two of them…only, not in the ways they planned.
Age Rating: 18+
Original Author: Rachel Lyons
Nola
I pin one side of my long, wavy, dark brown hair back with two ruby-colored bobby pins. "There looks good," I say to my reflection.
I wipe my sweaty palms on a hotel hand towel and give myself a once-over in the mirror.
"What do you think?" I ask Quinn. "I don't think I look overdressed for the restaurant and hotel bar.
"I don't want to come across desperate, looking like I put too much effort into dining alone in a five-star restaurant like an imposter."
"You don't look like an imposter, but you do look like a woman who wants to get laid tonight." She laughs.
"Stop it, Quinn. I'm serious. Do I look okay?"
"Nollie, you look beautiful. Relax, get Mom's voice out of your head, and go out and get yourself some. There's nothing wrong with taking what you need. And sis, you definitely need to get laid."
"God, what am I doing?" I stop myself from talking myself out of this tonight. "I'm forty fucking years old. Forty! I'm doing nothing wrong."
"That's right, you're not." She checks her phone. "Scott's downstairs. I'm heading out. Call me tonight and let me know if you pick up a man." She giggles.
"For the love of God, please stop teasing me. I'm going for dinner and drinks at the bar, and I might try to pick up a man."
"Okay, whatever you say. Thanks for the day of shopping. I'll pick my bags up from you in the morning. You really do look beautiful. Enjoy your fancy meal.
"Drink and dance at the bar and unwind. If you finally lose your second virginity then all the better, good luck."
"Leave, I'm done with you," I say and flip her off.
She laughs and leaves the hotel room. I go back to the bathroom and look at myself one last time. I turn to the side to check out my butt and back in the mirror. I smile.
"God, I love this dress."
I face the mirror and lean forward a little to admire my cleavage. I stand and prop up my boobs into the built-in cups. I double-check the bows that are holding up my dress, tied at my shoulders.
I grab my clutch off the bed and slip on my highest-heeled black stilettos. I open the door and send out positive vibes that I won't be coming back to this room alone tonight.
I exit the elevator into the massive marble lobby and hear a high-pitched voice scream, "Nollie!" It echoes all around me.
I panic when I see Riley running toward me as soon as I step off the elevator.
I'm panicking because my two-year-old nephew is running toward me with a huge sticky sucker in his hand while I'm dressed up for the night.
I squat down and hold my hand out. I keep him at a safe distance with my palm on his chest.
"Hey, stink bug. Nollie's all dressed up. Put your sucker away. Did you have a good day with Daddy?"
He nods his head yes, smiles at me innocently, and lays his lollipop on my bare arm.
Scott picks him up from behind. "Sorry, Nola, I set him down to shake hands with our old neighbor, Drew. Did he get your dress dirty?"
I ruffle Riley's hair. "He tried."
"Yeah, I'm not looking forward to this one growing up. He may be the one that finally kills Quinn and me."
Riley lunges forward, wanting me to hold him. "No can do, stinker. I'll see you tomorrow night for dinner. Nollie has to go now so I can make my dinner reservations."
He cries loudly, pulling on my heartstrings. "Hold me, Nollie, hold me." He hears his voice echoing and loudly cries, "Nooolllllliiiiiieeeeee."
Finally, Quinn stops talking to whoever she was talking to and comes over to take Riley from Scott to quiet him down.
She hands me a wet wipe, and I look around the fancy lobby to see if Riley's outburst has caught anyone's attention.
Several people are looking our way, and my eyes land on a handsome man who has sat his newspaper down and is staring at us.
I smile apologetically and focus on getting Riley and my family out the door so I can eat a fabulous meal and relax.
"Ri Ri, I'll see you tomorrow night when you and your brothers and sisters all come over to hang out for pizza.
"Be good for Mommy and Daddy tonight, and maybe I'll make a special dessert, and we'll eat it outside in the tent." I put all kinds of excitement in my voice.
He shakes his head yes and sucks on his sucker.
I look at Scott. "So, what are you doing with your free time tomorrow night?"
"Indians game." He chuckles, and I look at Quinn when I hear her making a gagging sound.
"Waste your alone time on a stupid sporting event, I had a lovely day out shopping with my sister, thanks for asking."
"Where are all the bags? I know you didn't shop for eight hours and buy nothing. What are you doing, keeping them here so Nola can sneak them in later thinking I won't notice the new stuff?"
I hide my giggle. After twenty-two years of marriage and a childhood spent as best friends, he knows her better than herself.
Quinn's mouth is hanging open and Riley shoves his lollipop into her open mouth.
I giggle. "I'll see you tomorrow, Riley. Tell your brothers and sisters night night for me." I kiss his sticky cheek.
As I turn to leave and make it halfway to the steps that will take me down to the restaurant, Quinn says loudly, "Good luck tonight, Nola," and I hear Scott chuckle.
I don't turn around to acknowledge them until Riley screams, "Ooo uck, Nollie."
I stop by a section of couches filled with people relaxing before their evening meal, wanting some peace. I turn and send Quinn a look that screams, "REALLY?"
She laughs and puts the sucker back into Riley's mouth. I shake my head when suddenly, a man clears his throat.
Read the full uncensored books on the Galatea iOS app!
2
Duke
A faint scent of roses teases my nostrils.
When I hear the little boy yelling something again, I look up to find the attractive woman from a moment ago standing right beside the chair I'm occupying in the lobby.
She sighs. She's dressed in a form-fitting black dress, which makes her pale, creamy skin look flawless. I can't make out her eye color.
She turns and throws a dirty look over her shoulder to the laughing couple leaving the hotel with the kid.
She looked pretty across the lobby, but I want to see her face up-close and find out what color her eyes are. I clear my throat.
Big blue eyes show surprise as she stands so close to my chair. I watch a blush work its way from the dip in her dress, up her long slender neck, then onto her pretty face.
"My nephew, sorry, excuse me."
She walks off toward the dining room. Damn, she has a nice figure. She's not very tall, but she has long legs and a spectacular ass.
My phone vibrates with an email. Son of a bitch, Smith, my business partner, won't be here until the morning because of bad weather out west.
I fold the paper and lay it down for someone else to enjoy.
"Good evening, Mr. Amerson. Your table is ready." The young, overly-friendly woman greets me.
"Thanks, Kelsey." She smiles when I use her name. I've only been here a week, and I know most of The Grand and The Grand Table employees' names.
My phone vibrates in my pocket. I look away from Kelsey. The women employed here need to stop with the smiles and goo-goo eyes.
Smith and I don't fuck employees. It will never happen. That's one rule we will never break.
I walk straight past Kelsey and check my email on the way to my table.
I take my seat by the window overlooking the city. This restaurant is the only reason we took this project on.
The food and Chef Kennison are regularly featured in fine dining magazines, on all the food networks on cable and PBS.
I already know plenty of staff names. I make it a point.
I know what I want, but I look over the wine list, anyway. Chef Kennison has excellent taste in pairing wines with his meals. Half of the list changes twice a year, along with his menu.
I sit the wine list down and look out the window to the best view of the city. Bright lights are reflecting off of the river.
"Oh my goodness, what a view. Thank you."
Ah, the attractive woman sits at a table usually occupied by romantic couples. She must be meeting someone special.
It's the premier view of the city. The waiting list for one table is seven months long. Many wedding proposals happen here at night and a lot of shrewd business deals during the day.
"Have you had enough time to decide, sir?" Sam asks.
"I'll have a glass of Cabernet Sauvignon Domaine Eden."
I email Smith back about two things we need to get a move on when I notice her sitting across from me, snapping pictures of the view out the window.
She's trying to be sly with her hand cocked in a strange way, so to a passerby, it wouldn't be obvious. Pictures are frowned upon in the dining room.
There is a wonderful balcony where photographs are permitted, hell, even encouraged.
I clear my throat. Big blue eyes meet mine, and, again, I watch the faint blush start at her neck and work its way up her creamy, pale complexion.
She smiles and mouths the word, "Sorry."
I smile back. Damn, she's beautiful. Hardly any makeup on besides dark red lipstick. Her dark brown hair is long, so long it's lays over her breasts.
Her long, slender neck keeps drawing my eyes. She notices me staring.
Nola
I just about jump out of my seat when the gorgeous man busts me taking a picture.
Yeah, I know I shouldn't, but I promised Quinn and my niece Charlie that I'd sneak one for them since Quinn has only ever indulged in the spa here, never the famous restaurant.
Charlie can't wait to experience the restaurant or the spa, and I hope she gets to soon. I don't feel sorry for Quinn though, she's a picky eater, and this wonderful food would be wasted on her.
I accept the wine list and dare a look over to the hot man, also sitting alone at one of the most coveted seats in our city. This is the third time I've noticed him.
I don't think he was happy about Riley's yelling, enjoying his echoes in the lobby. I notice him looking at my shoulder. I try not to be self-conscious.
I nervously smile and glance down at my shoulder, hoping I have nothing out of place, like a part of a sucker hanging off me.
I inspect myself carefully. Nope, nothing on me.
I lift my eyes to his, and my stomach somersaults. Jesus, he's gorgeous. I try to control the blushing that occurs when I look at him.
After ten hours spent with my sister, my best friend, talking about sex today, it has made dirty thoughts flash through my brain.
He smiles as if he knows what I'm thinking, shakes his head, and picks up his phone.
"Would you like to hear our specials and suggestion of wine pairing before you make your decision?"
"Oh, no, thank you. I know what I'd like already. I'd like a Manhattan instead of wine."
"Have you decided on a starter? Can I answer any questions about the menu for you, ma'am?"
"No, thank you. I'll start with the Caviar Tartare, and then I'd like the steamed Black Sea Bass, please. Thank you."
I stare out at the view. Nervous butterflies are fluttering in my stomach. I feel like it's the calm before the storm. I shake my head. Hell, I've been living in a hurricane for the last five years.
"Your Caviar Tartare will be out in a minute."
I take a sip of my drink and try not to look at the handsome man sitting across from my table. Jesus, he's all man, no wonder I have butterflies in my stomach.
He's massive, so tall, and built like what I'd guess seeing a pro athlete up close and personal would be like.
His dark brown hair, is a stylish cut, shaved close on the sides but longer on top. Long enough to run my fingers through it. He is seated right in front of me, and I see how truly huge the man is.
His suit had to have been specially made for him. I wonder if he is a professional athlete? I would have no clue, only Scott or the boys would know.
I keep hold of my Manhattan and enjoy the burn of the first few sips.
The view is unbelievably cool — being up this high on the edge of the river with an unobstructed sight of the whole city blinking and twinkling alive with life is breathtaking.
I smile when a young woman fills my water glass. "Thank you."
I rub my palms on the napkin in my lap. I've wanted to eat here since I moved back home. This restaurant blew up when Chef Kennison bought it eight years ago.
I made the reservations for this table almost eight months ago. And I don't care that I'm a party of one in a coveted table known for romantic, special occasions for couples.
I plan to sip my drink and savor my dinner, enjoying the view.
I sneak a peek at the gentlemen who is also alone at a table. He's glued to his phone still. He must feel me staring because he looks up and smiles at me.
I smile back, sip my Manhattan, and know I'll be disappointed when his dinner date shows up.
"Your Caviar Tartare." Yum, my mouth waters.
Read the full uncensored books on the Galatea iOS app!