Women around the world have read over 1 billion chapters on the fiction reading app Galatea. The app has received recognition from BBC, Forbes and The Guardian with Forbes saying "The Millennium Wolves [on Galatea] is selling faster than Harry Potter".
With over 300 titles available in the app, and an additional 40 stories added each month, Galatea has kickstarted a phenomenon among readers. The app includes a variety of genres, from werewolf fiction to contemporary romance, there are plenty of binge worthy series' to chose from.
Check out some Galatea super fan comments from social media below.
#1 The Millennium Wolves – 125 million reads
Werewolf romance smash-hit, The Millennium Wolves spans over 7 seasons. Follow Sienna as a nineteen-year-old werewolf with a secret: she's a virgin. The only virgin in the pack. She's dead set on making it through this year's Haze without giving into her primal urges—but when she meets Aiden, the alpha, she forgets all about her self-control. No girl has ever said no to the Alpha before but Sienna's different. She won't give in without a fight – even if her body is begging her to.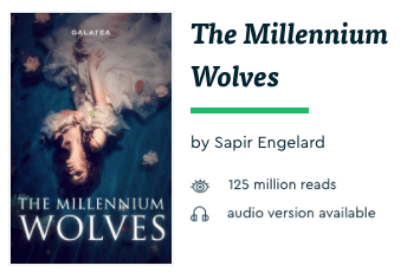 #2 The Arrangement – 60 million reads
Angela Carson's a good daughter and she's about to see just how much she's willing to do for her family. The wealthiest businessman in New York City makes her an offer of a lifetime: marry his playboy son, and all of her father's medical bills will be taken care of. When bad boy Xavier Knight is forced into an arranged marriage with Angela, he assumes she's just another gold digger—and vows to punish her for it. It was an arrangement of convenience, but appearances are deceiving, and 'happily ever afters' can blossom in the most unlikely of places.
#3 Broken Queen – 25 million reads
Determined to make Pack Warrior after years of imprisonment, Ariel is the fiercest werewolf to ever make it through the ranks. Ariel was kidnapped by hunters two years ago and used as the test subject of horrible experiments. With the help of the Moon Goddess, Ariel finally gains her freedom. But finding her mate and picking up life where she left off may be even harder than she imagined. Ariel has one shot to prove she has what it takes to triumph over trauma. Can she do it?
Find Galatea in your app store and transport yourself into your next favourite novel now.
I am so absorbed into these books… bye bye Netflix 😊
Honestly I think this app is great. I use it pretty much everyday and I love it. 👌🏻❤️
I love this App. The books are amazing and I'm always excited to read more!
I really can't get enough of this app. I spend most of my time reading, even at work. I just need a little taste of a chapter. The authors of the books are geniuses, I am sooo appreciative of their efforts. 💜